Coming from a hockey-obsessed country, Nik Stauskas had a different choice from a very young age. Nik grew up as a stubborn kid who once found something he liked and didn't want to try other things. He has tried street hockey, and soccer league but nothing could match his immense love for basketball.
Following his passion, Nik is now a professional basketball player who plays for the Boston Celtics of the NBA as a shooting guard. He was first drafted in the 2014 NBA draft but after trying 5 years in NBA and being out of the league for around 2 years, he is again back in-game a with different perspective. The life of the Canadian basketball player Nik as a player may be familiar among his fan but did you know he is married and is soon to be a father? Here let's have a deeper insight.
Nik Stauskas Married Life With Wife
Nik Statuskas tied the wedding knot with his girlfriend Alexandra Gerhart on 13th August 2020.
The duo first began dating back in the year 2017. They first went on date on 8th August 2017 and soon started appearing as a couple and expressing their love for each other on social media.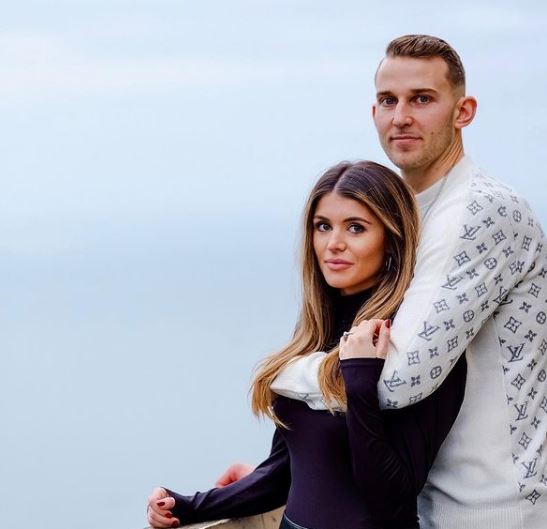 After a year of dating, Nik and his lady love Alexandra got engaged in August 2018. Their engagement video was shared with their fans on various platforms such as YouTube and Vimeo.
They got married in an outdoor wedding in August 2020 surrounded by friends and family.
Suggested Read: Is Brodric Thomas Dating? Girlfriend, Family, Salary And Net Worth
Who Is Nik's Wife Alexandra Gerhart?
Alexandra Gerhart is most popular for being the wife of NBA player Nik. She also gained some media attention when she made an appearance on "Say Yes To Dress", alongside her mom Tracy looking for her perfect fit wedding dress.
Alexandra is a law school graduate of 2021 from Delaware Law School. Initially, she transferred from law school (University of Oregon) and moved to Spain to support her partner Nik's career yet on the side, she was always dedicated to pursuing her dream of becoming an attorney.
The 27-year-old beauty Alexandra was born on 1st April 1994.
Suggested Read: Is Daniel Theis Married? Wife, Girlfriend, Parents, Net Worth
Nik Stauskas Children
Blissfully married for around 2 years, Nik and his life partner Alexandra are soon to be parents. Yes, you read that right! The pair is expecting their first child. 
Nik was out of NBA for over 2 years until he finally returned by signing a 2-year contract with the Boston Celtics. According to Sports Illustrated, Nik had revealed to the media that
"there are much more stresses outside of basketball put on his family. Now, it is not just about him but also about his wife and the kid on the way."
However, further details about the gender of the baby and the due date are yet to be revealed.
Suggested Read: Aaron Nesmith Dating, Girlfriend, Family, Net Worth
Nik Stauskas Net Worth & Salary
Nik was first drafted 8th overall by the Sacramento Kings in the 2014 NBA draft. With that, he became the highest Michigan selection since the selection of Jamal Crawford in the 2000 NBA draft.
After around 2 seasons, Nik was traded to the Philadelphia 76ers on 10th July 2015 and was again traded to Brooklyn Nets by the 76ers on 7th December 2017.
Moreover, Nik signed with the Portland Trail Blazers of NBA on 5th July 2018 but was again traded to Cleveland Cavaliers on 4th February 2019.
Likewise, in 2019 he was also traded to other teams like Houston Rockets and Indiana Pacers.
Nik then signed a one-year deal with Kirolbet Baskonia, a Spanish EuroLeague club, and the contract was terminated on 12th February 2020.
Nik was also part of the NBA G League teams like Raptors 905, and Grand Rapids Gold. Nik even signed 10 days contract with Miami Heat. 
Eventually, he signed a two-year contract with the Boston Celtics worth $2,617,456 with a base salary of $423,536 on 4th March 2022.
Furthermore, Nik's net worth is estimated to be around $4.5 million.
Suggested Read: Luke Kornet Wiki, Age, Married, Wife, Parents, Net Worth
Nik Statuskas Parents, Family
Nik Stauskas was born on 7th October 1993 in Mississauga, Canada with the birthname Nikolas Tomas Stauskas. His father's name is Paul Statuskas whereas his mother's name is Ruta Stauskas.
In terms of siblings, Nik has an elder brother named Peter Stauskas who is 3 years older than him.
Nik revealed to Northpolehoops.com, that his family is a large part of his success. His dad used to play with him in their backyard helping with the game while his mom used to support him in everything and attend every single of his games while growing up.
Similarly, his older brother Peter always motivated him to be the best. Peter used to play rough with Nik so that it would max Nik's potential by making him create his own shot against stronger, faster, and biggest defenders.
Suggested Read: Payton Pritchard Dating, Girlfriend, Family, Salary, Net Worth
Short Wiki
When Nik was in 5th grade his parents gave him and his older brother an option of whether to install a swimming pool, a putting green, or a basketball court on a small patch of land in their backyard. The Stauskas brother chose to have a court.

Nik initially attended Loyola Catholic Secondary School of Mississauga and later went to South Kent School of South Kent, Connecticut. But after being homesick, he relocated to St. Mark's School.

Nik was committed to the University of Michigan where he played basketball for the Michigan Wolverine men's basketball team.

Nik holds Canadian nationality and comprises of Lithuanian descent as per his ethnicity.

Nik celebrates his birthday on the 7th of October so his zodiac sign is Libra.

Talking about the height of Nik Stauskas, he is 6 feet and 6 inches tall ( 1.98m) and his listed weight is 207 lbs (97 kg).