Griffin Colapinto is an American professional surfer who has been able to make a name for himself at the young age of 23. He is the winner of the 2017 Men's Qualifying Series and qualified for the World Surf League (WCT) surfing. He also won the Vans Triple Crown of Surfing event held in the same year.
Griffin Colapinto Family, Parents
Griffin Colapinto discovered his interest in surfing because of his parents who ran a surf camp in San Clemente during the summer months. His parents have been very supportive of his career and his brother's too who is also a professional surfer. His brother's name is Crosby Colapinto. The Colapinto brothers own a joint Instagram account where they share the tales of the Colapinto brothers and friends and their surfing videos.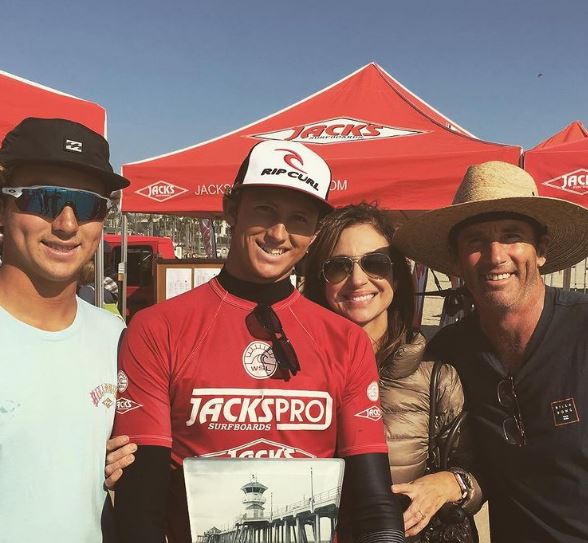 Talking about his parents, their names are Camille Colapinto and Mitch Colapinto. His mother Camille is a registered nurse who is currently working at Lea Plastic Surgery. His father Mitch is a school teacher who has also written a book titled 'Making Wave.'
Is Griffin Colapinto Dating?
Griffin Colapinto is single. The American professional surfer doesn't seem to be dating anyone right now.
Griffin hasn't given any glimpses of his dating life on social media and neither has shared cozy pictures with anyone who could be guessed as his girlfriend or partner.
Since he doesn't seem to have a partner now, we can say that he is dating his career as he is busy inclining his career to new heights.
In this regard, stay connected with us to get updated on Griffin Colapinto's relationship status.
Griffin Colapinto's Net Worth
It hasn't been long since Griffin Colapinto began his professional career. He grabbed the limelight when he landed a Hail Mary aerial reverse in the high-stakes Hawaiian Pro at Haleiwa in November 2016.
He is also the winner of the prestigious Vans Triple Crown of Surfing and World Surf League. Griffin has been able to garner fame from his professional career and also has assembled some fortune from it. His net worth in 2022 is estimated to be more than $1 million.
Short Wiki
The American professional surfer Griffin Colapinto was born in the year 1998 in Mission Viejo, California.
 
Griffin, who is currently at the age of 23, celebrates his birthday on July 29.
 
His zodiac sign is Leo.
 
His height is 5 feet 11 inches (1. 80 m) and his listed weight is 171 lb (78 kg).
 
His parents' names are Mitch Colapinto and Camille Colapinto.
 
He has a brother named Crosby Colapinto who is also a professional surfer.